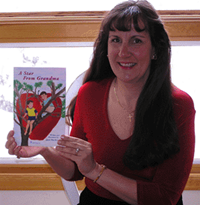 Having an Elementary Education degree and being a mother of two, Ms. Mueller knows just how to make learning fun!
Pulling from her professional background in marketing and publishing, this gifted author and illustrator has created a fun­ filled, informative, presentation your students will enjoy. Ms. Mueller's presentation reinforces what children are learning in school. She covers information about authors, illustrators, the writing process, editing and publishing. Creative writing workshops are also available.
During her presentations, Ms. Mueller will explain how a book is made. She will read the book, A Star From Grandma, and share how she was inspired to write this story. She will also have students try a technique that illustrators use to transfer a picture from a practice pad to a final draft. At the end of her presentation, Ms. Mueller will surprise the children with the secret star that is found in an apple.
Presentation Information:
Presentations run approximately
45 minutes
Presentations are geared K- 8
Suggested group size per
presentation - up to 80 children
Suggested group size per creative writing group - up to 25 children
Professional fees:
$45/hour (with a 2 hour minimum) plus travel expense fees